Get Peace of Mind With the Jaguar EliteCare Program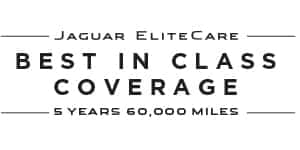 Whether purchasing a sporty new Jaguar F-TYPE, an innovative Jaguar I-PACE, or the roomy Jaguar XF Sportbrake, Jaguar Colorado Springs has you covered with Jaguar's EliteCare Advantage program. Jaguar EliteCare is a multi-faceted warranty coverage program, which allows new Jaguar owners to enjoy their new vehicle without the worry of costly repairs. This comprehensive program is more than just traditional warranty coverage. Jaguar EliteCare is a whole suite of beneficial amenities that are truly valued by our Jaguar customers. Drive home a new luxury 2018 model or elegant new 2019 model and enjoy these amazing benefits:
* Drive with confidence with our best-in-class 5 year/60,000-mile limited warranty. In the unfortunate event of a breakdown, our factory-certified service technicians will repair your Jaguar with Jaguar-approved parts.
* Keeping your Jaguar in tip-top shape is the perfect way to protect your investment. Our factory-trained technicians at Jaguar Colorado Springs will complete regularly scheduled maintenance for the term of your Jaguar EliteCare warranty.
* In the unlikely event that your Jaguar does break down, as a new Jaguar owner you will enjoy 24/7 complimentary roadside assistance. Whether on a family road trip or commuting locally, Jaguar EliteCare has you covered. Your vehicle will be towed to the nearest Jaguar service center, anywhere is the U.S.
In addition to your beneficial Jaguar EliteCare Advantage program, your vehicle features the amazing Jaguar InControl® Remote and Protect™ apps to keep you connected to the health and well-being of your vehicle. With this full suite of benefits, provided to you by Jaguar, you can just start enjoying your vehicle and leave the worrying to us. Jaguar Colorado Springs has a large inventory of luxury new Jaguar vehicles. Contact our sales experts for more information on your favorite new Jaguar model and the "game-changing" Jaguar EliteCare Advantage today!