Jaguar Unveils its Production SUV the F-PACE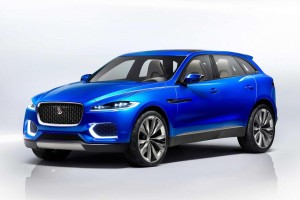 Jaguar just unveiled its first ever SUV and the automaker made it very clear that the vehicle's set for production and heading to a dealership near you sometime in the near future. A concept vehicle was unveiled way back in 2013, but the automaker put the real deal on display over this past week, and it's an impressive vehicle to say the least.
Keeping Up with the Competition
With Jaguar sales beginning to lag a bit it's taking measures to keep up with most of the other automakers in the industry who all sell some form of SUV. Even companies like Lamborghini and Rolls Royce have announced plans to produce their own SUVs, following in the footsteps of automakers like Porsche who is doing quite well with its two different SUV offerings.
Different than Land Rover SUV
What's surprising about Jaguar producing an SUV is that it's all Land Rover does. Both automakers are owned by the same company, Tata Motors of India, and they would almost be competing against one another by Jaguar entering the production race. But just as a Range Rover and the Porsche Macan don't really compete with one another much, neither will Land Rover vehicles and a Jaguar SUV, because they have very different purposes. Sure they're both designed to travel around stylishly and comfortably, but the Jaguar SUV is clearly going to have a sporty stance, while Land Rover favors a more rugged quality in its vehicles. That's the key difference that will let SUVs from both automakers thrive alongside one another.
A Sporty SUV
The Jaguar F-PACE SUV is going to take design characteristics from the F-TYPE sports car giving it an edgy look that stands out as clearly Jaguar. While it won't be brimming with as much power as the automaker's F-TYPE sports car is thanks to the ultra-light body of the vehicle, it's still going to have enough strength to be a blast to drive around, and it will have that distinctive Jaguar edge to it that stands out so much.
New Technologies
The F-PACE will be the very first Jaguar vehicle that offers automatic braking that will help the vehicle stop when a collision is detected up ahead. The vehicle will also come with sign detection and will update drivers on the speed limit by reading signs and tapping into GPS data that it has available.
Multiple Engine Options
When the F-PACE is released, it's going to come with either a 340 HP or 380 HP V6 engine. Each option is supercharged to generate enough power. There's also a 4-cylinder diesel option that offers 140 HP for those who want something a bit more economical that's still packed with plenty of torque. The top version will go from 0 to 60 in just slightly over five seconds.
This SUV marks a big change for Jaguar, and hopefully enough success for the automaker to fund a bunch of awesome new sports cars, that's exactly how things are working for Porsche lately.